Are you tired of looking at dull and lifeless gray hair? Say goodbye to lackluster locks with the best purple shampoos on the market! Not only do these shampoos help maintain healthy hair, but they also enhance your natural color and add vibrancy. Whether you are a silver fox or just want to try out the trendy silver-gray style, we've got you covered. Let's dive into our top picks for achieving luscious, radiant locks – because when it comes to gray hair, don't care!
Introduction to Gray Hair
As we age, our hair naturally starts to lose its color. For some people, this can happen as early as their twenties, while others don't start to see any graying until they're well into their fifties or sixties. Regardless of when it starts, though, there's no denying that gray hair is a reality for most of us eventually.
While some people embrace their gray hair with pride, others may feel like it's a sign of aging that they'd rather not deal with. If you fall into the latter category, you might be tempted to reach for a box of hair dye the next time you see a strand of silver peeking through. But before you do that, consider trying a purple shampoo instead.
Purple shampoo is formulated specifically for colored hair – and that includes gray hair. It works by neutralizing yellow and brassy tones in your hair, which can help your gray strands appear brighter and more vibrant. Purple shampoo won't change the color of your hair, but it can help give it a healthier-looking appearance overall.
Benefits of Using purple shampoo for gray hair
If you're one of the many women embracing her natural gray hair, you may wonder if there's anything you can do to keep your locks healthy and vibrant. The good news is, there is! Introducing purple shampoo – a haircare product specifically designed for gray hair that can help to keep it looking its best. Here are just a few of the benefits of using purple shampoo on gray hair:
It helps to prevent brassiness and yellowing
One of the main issues that women with gray hair face is that their locks can start to take on a brassy or yellow tone over time. This is caused by a build-up of minerals in the hair from hard water, styling products, and environmental pollutants. Purple shampoo contains violet pigments that neutralize unwanted yellow tones in the hair, helping to keep it looking brighter and more vibrant.
It protects against damage and breakage
Gray hair is more susceptible to damage and breakage than other hair colors due to its delicate nature. Purple shampoo can help to strengthen and protect gray hair, keeping it looking healthier for longer.
It adds shine and vibrancy
The purple shampoo also helps to add shine and vibrancy to gray hair, giving it a healthy-looking glow. If your gray hair is looking dull or lackluster, purple shampoo can help to give it a much-needed boost!
How to Pick the Right Purple Shampoo for Your Hair Type
If you're looking to keep your gray hair looking healthy and vibrant, purple shampoo is a must-have. But with so many options on the market, how do you know which one is right for your hair type? Here's a quick guide:
If you have fine or thin hair:

Look for a purple shampoo that's specifically formulated for color-treated hair. These formulas will be gentle enough for daily use and won't weigh down your locks.
If you have thick or coarse hair:

A purple shampoo with a deep cleansing action will work best for you. Once or twice a week, use this type of shampoo to remove build-up and keep your gray hair looking shiny and fresh.
If you have dry or damaged hair:

A hydrating purple shampoo will help replenish moisture and protect your strands from further damage. Use it once/twice a week in place of your regular conditioner.
Best purple shampoo for gray hair:
As we age, our hair begins to lose its pigment. For some of us, this can happen as early as our twenties! And while there's nothing wrong with a bit of gray hair, many of us prefer to keep our locks looking vibrant and healthy.
That's where purple shampoo comes in! Purple shampoo is specifically designed to help neutralize brassy yellow and orange tones in gray hair. It can also help keep your hair looking shiny and healthy.
So, if you're looking for the best purple shampoo for gray hair, look no further! Here are our top picks:
L'Oréal Paris Ever Pure Silver Shampoo:

This purple shampoo contains violet pigments that help neutralize yellow tones in gray hair. It's also gentle on color-treated hair and helps keep your scalp healthy.
John Frieda Sheer Blonde Go Blonder Lightening Shampoo:

This purple shampoo contains lemon and chamomile extracts that help lighten blonde hair while keeping it hydrated. It also has a built-in conditioner to help detangle your locks.
Clairol Natural Instincts Brightening Blue Shampoo:

This purple shampoo is formulated with chamomile and passionflower extracts to help brighten blonde hair. It also contains coconut oil to hydrate your strands and improve overall texture.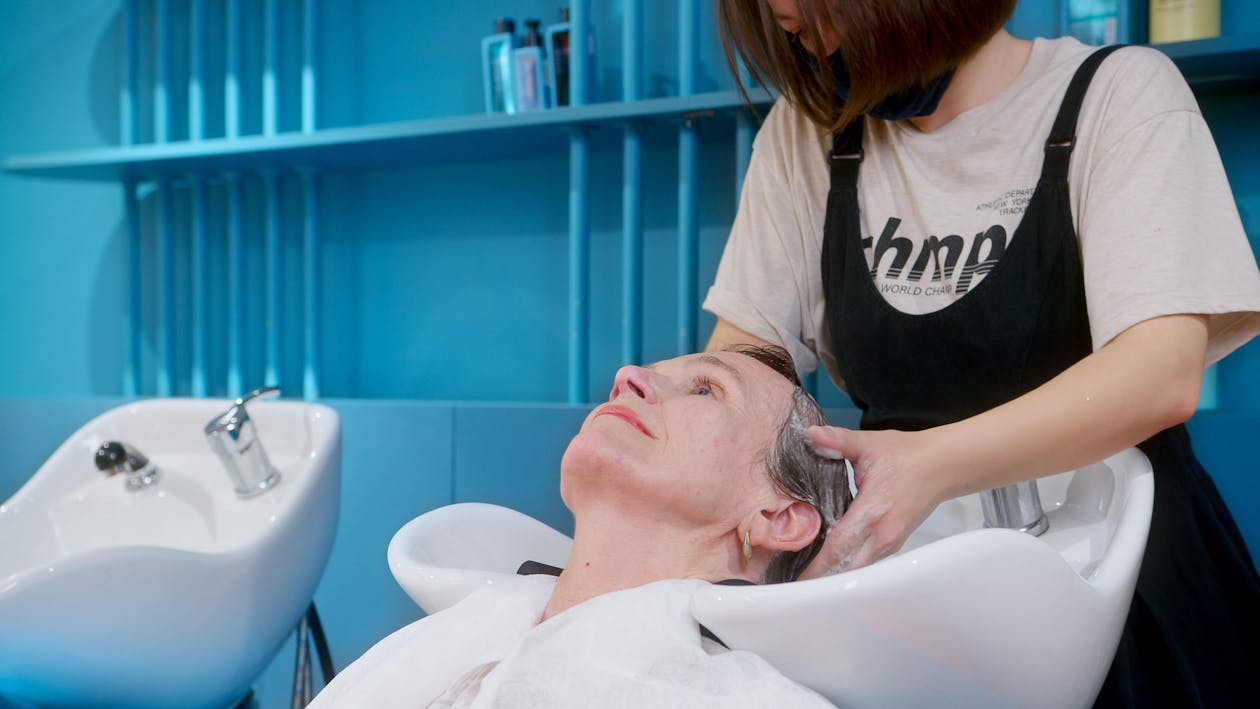 Tips and Tricks to Get the Most Out of Your Purple Shampoo
Going gray is a fact of life. But that doesn't mean you have to let your hair go without some TLC. Purple shampoo is a must-have for anyone with gray hair – it helps to keep your locks looking healthy and vibrant.
Here are some tips and tricks to get the most out of your purple shampoo:
1

. Use it once a week.
2

. Leave it on for 5 minutes before rinsing.
3

. Be sure to rinse thoroughly afterward.
4

. Follow up with a conditioner.
5

. Use a heat protectant if you plan on using hot tools afterward.
Alternatives To Purple Shampoo
If you're looking for an alternative to purple shampoo, try one of these options:
Blue shampoo:

This type of shampoo is ideal for toning down brassiness and keeping blonde hair looking fresh.
Silver shampoo:

Formulated with violet pigments, the silver shampoo helps to neutralize yellow tones in gray hair.
Clear shampoo:

If your main goal is to keep your hair clean and healthy, regular clear shampoo will do the trick just fine.
Temporary color depositing shampoo:

These shampoos can help to refresh your hair color in between salon visits. Choose a shade that's one or two shades darker than your current color for the best results.
Also, Read About Types Of Eyeshadow Looks That You Can Sport
Conclusion
With so many purple shampoos available, it can be difficult to choose the best one for your hair. We hope that this article has helped you discover some of the top-rated products and what their benefits are. Remember to look for ingredients like keratin and biotin which will help nourish and protect your hair while reducing the appearance of gray hairs. So if you're ready to embrace gray locks with confidence, grab a bottle of purple shampoo today!